Sex Toy Zodiac: Virgo
By: Lisa Finn
Virgos are the get shit done sign. Efficient and organized, Virgos can be the perfect partner for making a sexual "to-do" list together. Given how detail-oriented and focused on success they are, this Earth sign can take a fantasy and bring every last element to life like they're aiming for a gold medal in bed. In the words of iconic Virgo Beyoncé (in a song titled Virgo's Groove, no less) Virgo lovers "can be the one that takes you there on [a] magic ride."
These perfectionist tendencies hold hands with the sensuality of this late-summer sign - with the grounding energy of their Earth element and their ongoing need for every situation to be ideal, Virgos are not only careful in choosing their partners, but are full of care for them when they do. Virgos aim to please, and so focusing on satisfying a partner is essential to their own pleasure as well - they want to give their partner the most enjoyment they can, paying attention to the details that curl their toes and prioritizing that pleasure is always reciprocal.
The phrase "if you stay ready, you don't ever have to get ready" is big Virgo energy, and a brief-style harness lets you live it. Designed to worn just like everyday underwear, a harness like the Tomboi hidden beneath clothing lets Virgo plan ahead - and when the time comes, simply slip your fave dildo through the sewn-in O ring and you're ready for play. Because even though Virgos love a schedule, who said that they can't enjoy a hot spontaneous hook-up sesh just as well as anyone else?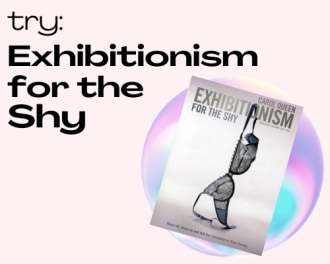 Another Virgo trait you may hear about is that this Earth sign can be more demure than other signs (the representation of which is the "virgin" - though, BTW, virginity doesn't have to be a thing, but I digress). Though being a shy person isn't necessarily a bad thing, if you or your Virgo fall into that more reserved category and do want to get a little more bold in the bedroom, there are plenty of how-to books to help make that leap - Exhibitionism for the Shy by sexologist Carol Queen PhD (who is also a contributor on our blog!) is a perfect read to help break through and find the sexy confidence you want.
Finally, I'd be remiss not to go for an obvious pick - something that's practical and extremely useful in anyone's sex life: a good lube. If you were to make a Venn diagram with the benefits of different types of lube--and Virgos love a good visual tool!--Sliquid Sassy is one that would land right in the center, since you can use it with condoms, barriers, toys of any material, and for skin-to-skin; it's long lasting, fragrance-free, tasteless, vegan, paraben-free and glycerin-free, and can be used for vaginal, anal, and even oral sex. It's like the all-in-one of lubes - talk about efficiency!