Get Connected: App Controlled Toys
By: Babeland
Distance can now be less of a barrier to play and passion when technology is on your side. Introducing some app-controlled toys to power up pleasure!
We're talking about toys that use Bluetooth that connects to apps, letting people share toy play from across town or across the globe, as long as you have access to WiFi.
How can they be used?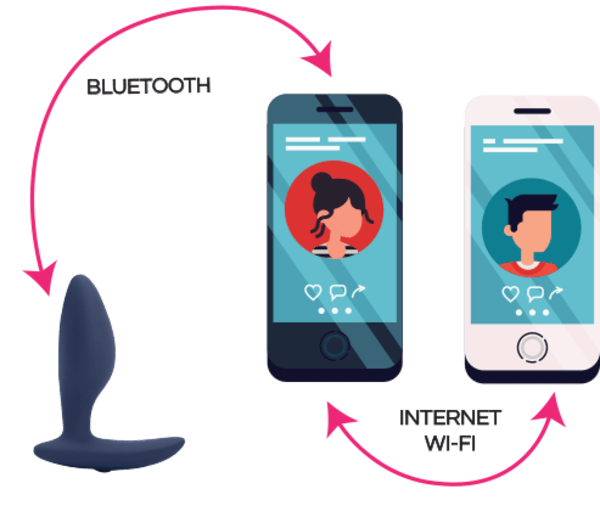 Long Distance
Unlike traditional remote control toys, app controlled lets you operate the vibrator despite not being in the same room. The vibe connects to the app on the user's end, and once your partner downloads the app as well they will be able to pair to your device remotely. This offers long distance couples ways to continue to be sexy with one another no matter how far apart.
Toys by Kiiroo can pair up to another toy via the custom Kiiroo platform to stimulate you both at the same time. Try the Titan with the Pearl 2 to experience mutual stimulation with shared responses to each others movements. What a time to be alive!
Casual Encounters
If you're a fan of flirting or a savvy sexter, you can step up your play by offering someone you don't know access to control your vibe. The apps let you invite and revoke that control any time you'd like, taking that Tinder or Grindr chat to the next level without ever having to meet up. Talk about safe sex!
Camming
Because it's so easy for you to offer someone access, you can absolutely use it to incentivize fans and viewers of your adult camming site to be a little generous with their tips, And products like the Cowgirl let you show off for a thirsty audience!
Public Play
If showing off isn't what you're looking for, you may enjoy a more discreet option. Vibes like the We-Vibe Moxie and the Vector allow for comfortable and discreet wear, out and about. This can make that long walk on the beach a short swipe away from orgasm.
Many find that app controlled toys allow them to explore exhibitionism, help them feel intimate with their partners, allow them easy (and painless) ways to play with power and control, and take their play beyond the bedroom. These innovative products take it up a notch so you can, well, stay connected!