Get Dirty & Keep Clean: Cleaning Your Toys
By: Lisa Finn
Taking care of your toys by cleaning them regularly is super important to keeping them looking and working great - the better you take care of them, the longer they'll take care of you! And cleaning your toys isn't only important for the well-being of your toy, but for your health as well.
How often should I be cleaning my sex toys?
You should clean your toy after every use. Bacteria that can be left behind from bodily fluids can multiply, and using a toy that has bacteria build-up can lead to irritation, yeast infections, UTIs, and bacterial vaginosis. Especially for porous toys, you'll want to fully clean them ASAP after use to make sure nothing makes a home in those tiny pores.
It's also recommended to check that your toys are clean before using them as well. It doesn't hurt to give them a quick rinse or wipe with a damp cloth before putting on your lube, just to make sure that nothing like dust or pet fur has made its way to your toy's surface since its last use.
How do I clean my sex toy?
When it comes to cleaning your toys, knowing what material they are is key. Fortunately, all of our products are made out of body-safe materials that can be cleaned with mild soap and water - but, there are still some differences to make sure you're treating the material correctly, especially if you're taking extra precautions for sanitation.
The most important difference is if your toy is non-porous or porous.
Non-porous toys do not have pores (tiny gaps in the material) that are permeable by things like body fluids, which makes them easier to keep clean, since they will not harbor bacteria in the material when the surface is properly cleaned.
Non-porous toys can be easily cleaned using mild soap and water, a toy wipe, or a toy cleaner and thoroughly rinsed afterwards. If your toy has a motor (toys that move or vibrate), check if it's waterproof before you pop it in the sink - not all toys can swim. For those, using a moist washcloth in place of a running tap will do the trick.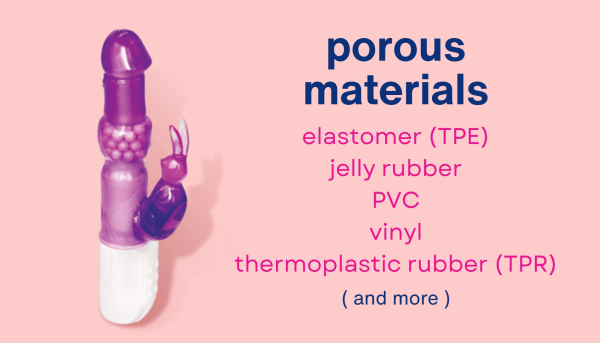 When it comes to porous toys, because these materials have those teeny-tiny holes (you may not even be able to see them) that can harbor bacteria deeper than the surface, take extra precaution with their use.
Most porous toys - when properly cleaned with mild soap and water, dried, and properly stored - can be kept clean and safe to use. However, if you're going to be sharing these toys with other partners, using them anally, or if you're sensitive to yeast infections, we recommend using a barrier like a condom over your toy for best practice.
Oh, and if your porous toy begins to change color or harbor a smell? Unfortunately, it's time to go Marie Kondo– thank your toy for its service and the joy it sparked, and then say goodbye.
Also - we get it - sometimes you don't want to deep-clean your toy every single use, and you want to just toss it to the side in your post-O bliss. Keeping a wipe-off toy cleaner handy in your nightstand along your toys and lube is a game-changer for keeping that toy clean in the time before you can (or want to) take it for a proper wash.
Can I wash sex toys in the dishwasher? What about disinfectants?
Yes, technically you can wash toys - specifically non-porous toys that do not have a motor - inside the dishwasher (top rack only!). However, you want to keep in mind that dish soaps can leave a residue on your toy that could be irritating - even if you don't add detergent, your dishwasher may have some left behind from a previous cycle - so hand-washing is your best bet option.
You'll also want to avoid any home cleaning products that are designed for surfaces and not skin - do not use cleaning supplies like disinfecting wipes, bleach, and kitchen / bathroom cleaners. A quick rule of thumb: if you wouldn't use it on your body, don't use it on your toys.
Some non-porous materials, like silicone, can be boiled to be disinfected- so long as there's no motor inside that can be destroyed by the heat. Boil these toys for 1-3 minutes, making sure that they're completely submerged and you're keeping an eye on 'em.
If you really want to make sure that your toys are clean, there's no harm in adding in some extra precautions. B-Vibe UV Sterilizer Pouch is a great device that uses ultraviolet light to safely de-germ your intimate playthings, and can even charge them while it works! (PS- this works great on other devices like cell phones and remote controls as well!) Just note that these items sterilize your toys by zapping bacteria but won't clean off any physical residue or grime - so rinse, wash, or wipe them first, and then pop them in to sanitize.
Storing your clean toys:
Leaving your toys out on top of your dresser or nightstand does make them easy to access, but it also leaves them exposed to dust and other particles that can be floating around the air. Keeping your toy stored in a pouch or case will keep it protected and out of eyesight from nosy roommates or family members - there are even lockable toy storage chests for that extra security. A bedside caddy can keep your toys covered but still super easy to grab in the heat of the moment.
Just make sure that your freshly-washed toys are dried completely before they are put away - this will prevent mildew and keep them from getting musty.
You can also store your toy in the box that it came in, just make sure that if the case is made of cardboard that the box stays free from moisture as well.
If you're storing porous toys, try and keep them separate from one another. You can use separate bags or individually wrap them in a clean cloth like a bandanna.
So as you're getting deep into that ~spring cleaning~ mood, make sure that you take some time to take care of your bedside buddies so that they can keep taking care of you.