Magic Wand Rechargeable
Powerful, penetrating vibrations
4 intensities and 4 patterns
Easy-to-clean silicone head
Cordless with plug-and-play option
Not waterproof or splash-proof
Please select a product option first
Goes Great With This
Magic Wand Rechargeable
Description
The game-changing vibrator that influenced the feminist sex-positive sex toy store revolution and our consistent best-selling vibrator of all time just got better! Portable! Greener!
The best-loved vibrator of all time just got even better! The iconic wand vibrator—delivering an amazing experience so good that generations of users have plugged it into the wall—has been liberated! That's right—the Magic Wand is available in a cordless version; now it goes anywhere you want it to.
Featuring incredibly powerful, penetrating vibrations (now with multiple patterns and intensities), Magic Wand Rechargeable delivers an amazing experience of mind-blowing orgasms beyond expectation. Newly improved with a smooth silicone head and quieter sound, plus four power intensities (low, medium, high, and ultra) and four vibration patterns, all powered by a lithium-ion rechargeable battery. The best tension-reliever ever—right on your sore muscles, or via all the pleasure you can take.
For penetration, check out the Pop Tops Deluxe G-Spotter attachment. Add a textured Pop Top to the head for varied sensation.
Magic Wand Rechargeable
Cord Length: 6'
Charger included (110V-240V, 50/60Hz)
(Low - 2,700 rpm, Medium - 3,800 rpm, High - 5,400 rpm, Ultra - 6,300 rpm)
Charging unit included; plug-and-play option for those times when you're near an outlet. (Does not charge during plug-and-play.) Runs for three hours on a full charge; for your safety and to preserve electronics and battery life, the wand shuts off automatically after twenty minutes of continuous use. The manufacturer recommends a cooling-off period at that point, but the wand will immediately function after the auto-shut-off if you wish to resume using it right away. The Magic Wand Rechargeable is not waterproof nor splash-proof.
Babeland is a certified retailer of the Magic Wand Rechargeable Vibrator.
Note: The included charger for the Magic Wand Rechargeable is compatible with 100-240V, 50/60Hz circuitry. It comes with the North American two-prong style plug, and with the use of the adapter for a different region, the unit should charge and operate correctly in other regions.
Brand: Magic Wand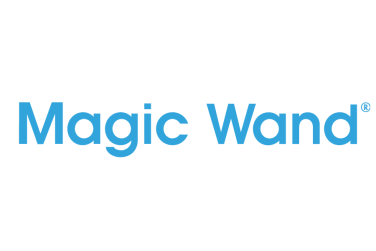 Brand: Magic Wand
Product Details
Material: Silicone / ABS
Texture: Smooth
Color: White
Power Source: Rechargeable / Wall Adapter
Length: 12.75 inches
Diameter: 2.47 inches
Intensity: 5/5
Volume: 4/5
Warranty: 1 Year