Two very interesting calls for submissions have come my way. They're both about trans folks and we need more work around these issues. Here they are!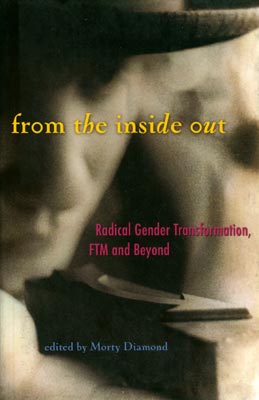 #1New Trans/Gender Variant AnthologySex, dating, and relationships in the trans/gender variant communityEdited by *
Morty
DiamondLooking for first person stories from trans and gender variant writers aboutthe experience of dating, sex, relationships, and finding love.Topic examples: hilarious or heartbreaking dating stories, transitioningwithin a relationship, being trans and starting families, passing/notpassing and how this affects our choices for dating, meeting our partnersfamilies, the idea of marriage - legal or otherwise, online dating,anonymous sex, sex and dating before and after surgery and/or hormones, howwe negotiate sex.I strive to make this anthology as diverse as possible within age, race,sexuality, and gender identity. I encourage all writers who identify astransgender, transsexual, genderqueer, third gender, non-gender, or gendervariant in some way to submit work.The length of your work should be between 1,500 and 3,000 words. Sexuallyexplicit work is ok. Please include a short biography with your work.Please submit your writing to this anthology to:
newtransanthology@gmail.com
Deadline: August 2006#2All submissions, commentary and visual history shall be fullyconsidered. IT DOES NOT HAVE TO BE ACADEMIC, "POLITICALLYAPPROPRIATE" or "GRAMMATICALLY CORRECT" I am alsoaccepting photos, written works, sketches, drawings, digital imagery,reprints, project descriptions, cartoons, erotica and more.Word Count/Page Limits:Personal Narratives ? 20 pages/5000 wordsFiction ? 20 pages/5000 wordsCritical Essays and Cultural Critiques ? 20 pages (includingbibliography) 5000 wordsInterviews ? 10 pages/2500 wordsPoetry/Rhymes ? No more than 3 pages per poem/rhyme and 3 poemsper poet/mcGraphic Stories ? No more than three pages per submission(number of panels up to you) Up to three pieces per artist.Photographs/Paintings/Collage/Drawings- 3-5, scanned as B/W only.DEADLINE: July 1, 2006Please send entries as .tif, .jpeg format, word or .txt attachmentsNot sure what you might have to contribute? Think about?contributing works that express your attitude towards?You can write about:Self/personal journey, on the job, transitioning, relationships, parenthood, everyday living, community involvement, health / wellness, Who Am I?
and can be used\n to describe humanbeings more generally as well as male-gendered people specifically.Homofactus Press thus seeks to emphasize the process by which humanbeings are made into what we are. We are all, in this sense (and to \ncoin a phrase), Homofacts: "made people."The broader mission of Homofactus Press encourages an activeengagement with the process of gender-making and people-making in theworld.
\nOur mission is to
:Publish the best books for FtMs in the world.Promote a sense of community through word-of-mouth and blogging(obligate our authors to hold themselves accountable to theircommunity of readers. \nEnhance the well being of readers with visible impairments andlearning disabilities by publishing all books in XML format, availablefor free download.Enhance the well being of poor readers\n in developing nations anddeveloped nations by publishing all books using a creative commonslicense and having PDF versions available for free download. ",1] ); //-->Spokes@homofactuspress.com