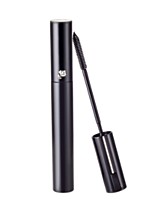 If you were nodding along with my post about buying sex toys instead of make-up but you just can't bring yourself to give up the cosmetics you love so much, then have no fear - the vibrating mascara is here!
I know almost nothing about make-up so I won't pretend to understand why you would want a vibrating mascara applicator - personally, I would be worried about poking my eye out.
But.. if what you'd really like is a vibrator that not only looks like make-up, but actually is make-up, well then I think this might just be for you. I know nothing about the speed or itensity of the vibration but let's just hope that this is the first in a long line of vibrating cosmetics.