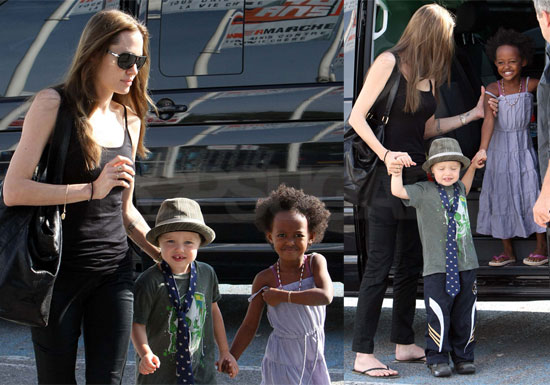 You've just had a baby boy and your friends and family are giving you clothing. What does that clothing look like? Is it pink? Ruffly? Flowery? My guess is no. It's probably blue, maybe green or brown with pictures of trucks or trains but no ruffles. As a society, we have pretty strict definitions of what counts as appropriate clothing for children and, well, for everyone, frankly. Boys and girls are supposed to dress in certain ways and stepping outside these norms can cause great discomfort on the part of others.Angelina Jolie recently experienced this when she had to defend her 4-year old daughter Shiloh's choice to wear "boys" clothes - pants, ties and hats. Apparently there were actual news headlines discussing how a 4-year old is dressing. That's how much it bothers some folks. Luckily, Angelina
didn't take any crap
about it:
"I think she (Shiloh) is fascinating, the choices she is making. And I would never be the kind of parent to force somebody to be something they are not. I think that is just bad parenting,"
The interesting thing about norms like this, is that we have a tendency to assume things have always been this way. Girls have always loved pink, been named Carol and worn dresses, right? Wrong, as
Brian Palmer
points out in the Slate:
For most of U.S. history, nearly all infants, regardless of gender, wore dresses. Only in the 20th century did sex-specific clothing come into fashion: Boys started wearing pants, while girls continued to wear dresses.
It's important to remember that we live in a specific cultural time and space with it's own set of rules, that not only can change, but will change. All it takes is for people to let their children wear what they want and we can move away from the dichotomous, rigid gender clothing restrictions we're all living under today.I think all that's left to say is, I love Shiloh's tie.