An Interview with Lorals!
By: Babeland
Babeland: Thanks so much for talking with us! We're so excited to learn more about Lorals and your journey in creating this product. Can you start by telling us what inspired you to design a product like this?
Melanie Cristol: My goal with Lorals is to help everyone have as much oral sex as they want, whenever they want it. As a sexual health educator, I know that so many people consider oral sex their favorite intimate activity – and for people with vulvas, it's three times more likely to lead to an orgasm than intercourse. I also love that oral is truly a gift. For that period of time, one person's goal is providing joy and the other person's goal is receiving it, allowing for a focused and meditative experience.
Yet in my personal life I found myself reluctantly declining oral. I was concerned about STI transfer – most STIs can be transmitted via oral sex, some more frequently than during intercourse – and I wanted my partners and myself to stay safe. During a romantic vacation I needed a dental dam—and I felt so disheartened that there wasn't a better product available. I wanted something that made me feel sexy and confident, and something wearable that would allow my partner and I to use our hands for more enjoyable things! After the trip, I went back to my job as a lawyer. But every time I tried to focus on brief-writing or witness-deposing, my mind turned to alternatives to dental dams that would empower people to have more oral sex.
I started having conversations with friends about their oral sex experiences, and so many of them, like me, were saying 'no' to oral sex when they wanted to be saying yes. Everyone's reasons were different. Some turned down oral because their partner had scratchy facial hair and it felt uncomfortable, some because they felt self-conscious, or they had faced trauma and oral sex felt too triggering. Others were generally excited about oral but always turned it down while they were on their period. Others were concerned about STIs and bacteria transfer during cunnilingus and rimming. This seemed like a lot of missed opportunities for connection, pleasure, and orgasms!
So, after consulting with many more oral-sex havers, sex experts, and sexual health specialists, I took the plunge and left my law career to invent and commercialize Lorals— single-use natural latex undies that help people across the world have more frequent, and more pleasurable, oral sex.
BL: It seems like most of the safer sex industry is focused on penetrative sex and condoms - and in a way that highlights sex involving someone with a penis. Do you think that plays directly into the misinformation about the risk of transmitting STIs through other sexual acts, and why those risks aren't taken as seriously?
MC: Absolutely, the focus on penetrative sex and condoms in the safer sex industry does inadvertently contribute to misinformation and a lack of awareness regarding the transmission risks associated with other sexual acts. For instance, the belief that oral sex is somehow "lesser" or "safer" has caused people to underestimate the risks. Yet, many STIs are transmitted via oral sex at rates comparable to intercourse.
For years, people — including medical professionals — have perpetuated the false belief that oral sex is less significant than intercourse, and therefore it must also be less risky in terms of infectious diseases. However, this is not supported by scientific research. Studies, including one from the University of Granada, have found a stronger correlation between the presence of STIs and frequency of oral sex than the frequency of intercourse. Another study from Weill Cornell Medicine showed that 85% of genital herpes cases are spread through oral sex.
The underrepresentation of non-penetrative sexual acts, especially those that are more common in queer relationships, further compounds this issue. It's time to challenge the pervasive societal notions that label oral sex as "not real sex" and thereby downplay its significance and risks.
The fact that 67% of the global population has oral or genital herpes, according to the World Health Organization, is a clear indication of the potential risk posed by all forms of sexual contact, not just penetrative sex. We need to break away from viewing safer sex through a narrow lens that only focuses on penetration and instead recognize the importance of protection during all sexual activities. This includes oral sex, which is where products like Lorals come into play, providing a targeted solution for risk reduction and STI prevention during this often overlooked yet equally significant sexual act.
BL: Can you touch a bit more on specific ways that Lorals can be used for risk reduction and STI prevention?
MC: Lorals have really stepped up the game in risk reduction and STI prevention during oral sex. They're designed to fit just like your regular underwear, meaning you can say goodbye to the worry of a dam slipping or dropping at an inconvenient moment. Also, no one needs to worry about holding them in place, so you're free to use your hands for other things. No hassle, just protection that works as it should.
One great thing is how Lorals are designed to cover the full genital and anal area, and they stay in place regardless of movement. This means you can go from cunnilingus to anilingus and back again without worrying about transferring fecal bacteria to the vagina. So, you're free to explore and enjoy without compromising on safety.
But Lorals aren't just about playing safe – they're designed to make the whole experience better. Their design isn't just practical, it's sexy, encouraging consistent use which is crucial in effective STI prevention. Lorals aren't a barrier to your enjoyment, they're a ticket to a safer and more satisfying sexual experience.
Lorals redefine what protection means for oral sex, making it sexy, safe, and seriously satisfying.
BL: What was it like getting your product approved by the FDA? We know that there are a lot of barriers (no pun intended) when it comes to getting sexual health items cleared.
MC: Getting FDA clearance for Lorals was indeed a journey, seven years in the making since the initial idea struck me. My long-term vision always encompassed STI protection, but I knew we were in for a marathon, not a sprint, due to the rigorous standards of the FDA.
R&D for our original version – Lorals for Pleasure & Comfort – took us three full years because we were crafting something completely new, something that didn't yet exist in the market. That launch in 2018 marked the start of an iterative process, where we ultimately had FDA clearance and STI protection in mind at every step. We keenly listened to user feedback and refined our product accordingly, while also preparing our products and documentation for the requirements of the FDA.
By 2021, we were ready to submit our FDA Clearance application, a dossier brimming with hundreds of pages of documentation, backed by numerous tests and collaborations with scientists. To achieve clearance, Lorals had to tick all the boxes – dimensions, thickness, elasticity, strength, and absence of holes. We also had to ensure our product was body-safe, conducting tests for cytotoxicity, irritation, and sensitization. We even tested our packaging to make sure it kept Lorals safe from wear and tear. Following an accelerated aging process, we then retested Lorals to guarantee a two-year shelf life. After hundreds of tests, we were thrilled to find that Lorals met all of the FDA's requirements, and our clearance was granted in April 2022.
The journey wasn't without its financial hurdles – FDA clearance isn't cheap, especially for a small business like ours. Many startups opt to raise millions in funding to cover these expenses, but we took a different route. We were able to navigate this process through my personal investment, revenue, and a modest pre-seed round with the support of backers like Backstage Capital and other angel investors who believed in our mission.
So, yes, the journey to FDA clearance had its challenges, but every hurdle was worth it in the end. The experience affirmed our commitment to safety and quality, and ultimately validated the effectiveness of Lorals.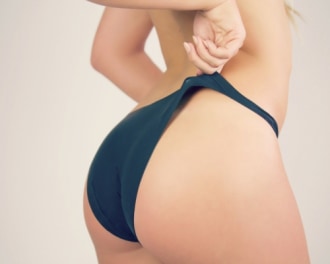 BL: Why do you think it's so important to make a safer sex product that not only works well, but that also looks good?
MC: It's crucial that safer sex products not only function effectively, but also look and feel good. Lorals truly excel in this regard. They're designed to be attractive and enhance the overall sexual experience, rather than detract from it. The appeal of Lorals extends beyond their protective functions, making safe sex genuinely sexy, and that's a game-changer.
As noted in The New York Times, Lorals have essentially "eroticized protection," a feat that condom companies have grappled with for years. The fact that Lorals even earned a photospread in Playboy underscores this point. For safe sex practices to gain widespread acceptance, they need to be both a responsible and attractive choice. And that's exactly what Lorals offer—a product that bridges the gap between safety and allure, and in doing so, revolutionizes the safer sex product market.
BL: Just from an aesthetic standpoint – which is your favorite current style of Lorals product? (I'm a huge fan of the shorties in black)

MC: Oh it's so hard to choose! My favorites are the Bikinis in Sheer for baring it all, and the Shorties in Black for fashion and kink.
I love that Lorals aren't just marketed as safer sex barriers – can you tell us a bit more about the other ways that folks can use Lorals?
Lorals are so much more than safer sex protection, they're also a fantastic way for people to explore activities that they might be hesitant about. It's one of the reasons we offer Lorals for Pleasure in addition to Lorals for Protection, because they can be used for activities beyond STI protection.
So many of our customers have told us that Lorals are the reason they love rimming and anal play. They give people the opportunity to try oral-anal sex without worrying about hygiene, and because the material is so stretchy and resilient they can explore both vaginal and anal fingering – even at the same time.
That versatility also allows Lorals to be used with partners of different genders and anatomies for rimming and anal fingering – which is huge for both the giver and the receiver feeling comfortable without worrying about mess.
So many other people tell us that until Lorals they couldn't enjoy oral sex – giving or receiving – whether because of confidence issues, shyness, dysphoria, trauma, sensitivity, or so many other reasons. Lorals give them an ultra-thin barrier that helps them get out of their heads and focus on pleasure.
And of course, Lorals are designed to be sexy and can be adjusted into so many different styles – from bikini to tanga to thong, hip hugger to higher waist coverage. So people also love them as accessories for dressing up, they wear them for kink and BDSM, to sex parties and clubs, and as a way to spice things up on date night and increase anticipation.
It's so exciting to see how Lorals help more and more people get the pleasure they want and deserve.
Have you received any feedback from the latex fetishist community, or did you ever expect to see your product used as fetish wear? Does it seem that having an erotic interest of that kind helps bridge the 'play' and 'safety' elements for some of the folks who discover Lorals?
We love the latex community and how excited they are about Lorals! A lot of people use Lorals as a first foray into latex fetish play, and many people who have been wearing latex for decades have Lorals on rotation in their closets. Lorals have such a unique feel against the skin, like you're wearing nothing, but it is latex and really fits into the latex fetish experience. Already seeing latex as erotic and beautiful, means that they're doubly excited for the pleasure they get while wearing Lorals.
If you could de-bunk one sex - or sexual health - myth to the world, what would it be?
Safe sex products don't have to detract from intimate or erotic experiences! We can and have created protection that not only looks hot but makes sex even better. Protection shouldn't be a barrier to pleasure, and Lorals are proof.